Dear friends,

Christmas is drawing near, and here in Australia, December is known as the silly season. It's strange to think that we celebrate Christmas during summer here in the southern hemisphere in the style of northern hemisphere celebrations - lots of talk about snow; big men dressed in red suits, and so on. But the only truth is that December is a month of sweltering heat, and so my hat goes off to all those Australian men who are choosing to dress up as Santa Claus at this time of year for whatever reason.

2015 has been a year of great music for me, and I've enjoyed it very much - thanks for sharing in it with me. It's been very interesting to revisit and revise my composition methods, and to become a band leader again after a 13 year break from leading bands. With the public's big move to paid music streaming services, these are interesting times in which to start to produce an output of original music, and I've learned a lot. I'm optimistic about the future of music, and I'm grateful for the opportunity to be a musician in this life. It's also been a great experience to be more and more involved in music education. I feel the need to 'give back' and to do my best to keep alive some of the wonderful age-old musical ideas that were passed on to me.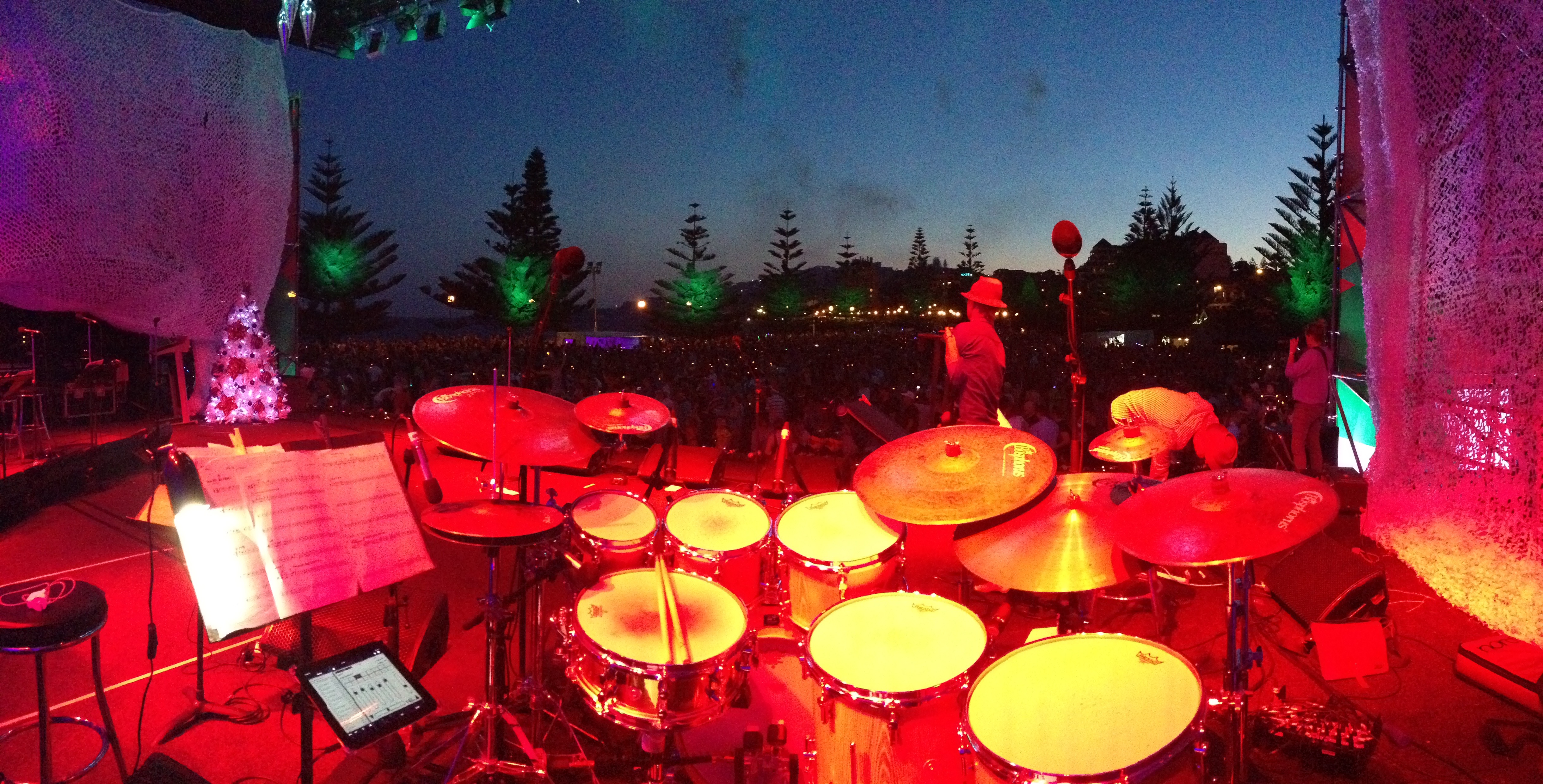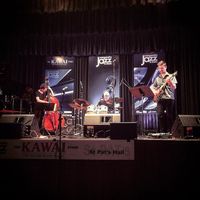 Dave Goodman Quartet
As our final gig for the year, we enjoyed playing at the Wangaratta Festival of Jazz & Blues in St Patrick's Hall on Sun 1 Nov. The guys have always sounded great together on this material right from the start, but it was by far the best the band has sounded on the material yet, and it was an honour to be invited to play in Wang. Thanks to Lea Ebb for this pic. We're looking forward to playing more shows for you in the New Year, so to keep your eye on updates, click here...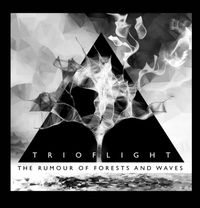 Trioflight
The Rumour of Forests & Waves, a brand new album by Trioflight has just arrived from the printers, and will be available soon. Trioflight is Nick Southcott (piano), Max Alduca (double bass) and me on drums. We were proud to record this album in the beautiful Cranbrook Music Studio as the winner of the studio's inaugural recording competition. We enjoyed playing in Tamworth on 20 Nov, and we'll be officially launching the album at Foundry 616 in Ultimo Thu 3 Dec with support from the brilliant Jo Fabro and Ben Hauptmann. We have some special giveaway options, and so it's probably best to visit our website to learn more. Click here...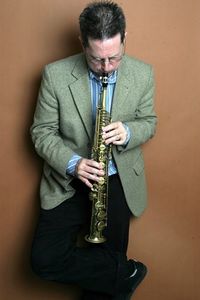 Phillip Johnston Septet
The Phillip Johnston 7tet will be making rare appearance at Foundry616 in Ultimo on Thursday evening, Dec 10th, 2 sets beginning at 8.30PM. It features an all-star band, featuring: Phillip Johnston: soprano saxophone, Peter Farrar: alto saxophone, Jeremy Rose: tenor saxophone, James Loughnan: baritone saxophone, Alister Spence: piano, Lloyd Swanton: bass, and Dave Goodman: drums. The music will be drawn from a wide range of Johnston's recent projects - early Ellington, Thelonious Monk, but mostly his original tunes ranging from classics from the Microscopic Septet repertoire to new material that has never been played in Australia before. Click here for tickets...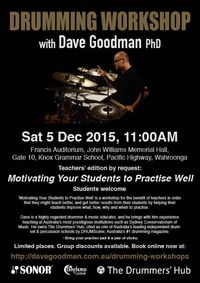 Drumming Workshop (teachers' edition): 'Motivating Your Students to Practise Well' - 5 Dec, Sydney
'Motivating Your Students to Practise Well' is a two-hour hands-on workshop designed to help teachers to help students practise better. Learn to improve your understanding of what, how, why, and when to practise in this friendly, supportive group environment. Although this is a special teachers' edition by request, students are welcome. Places are limited, and filling up. Discounts are available for group bookings, and student concessions. Book now...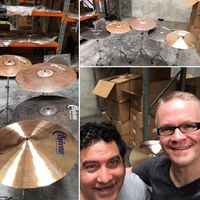 New Bosphorus Cymbals
I've been collecting Turkish hand-made Bosphorus Cymbals since mid-2009, and in early 2013 I began endorsing the brand. Simply put, Bosphorus make the best cymbals in the world using craftsmanship that's been passed along generations of cymbal artisans. I went to Brisbane in November to collect five beautiful new cymbals from the Pro Music Australia warehouse, and I had a great time sharing stories and opinions with Jules Foulkes who very graciously spent a few hours with me while I decided which cymbals to add to my collection. For more info about my obsession with these amazing cymbals, click here....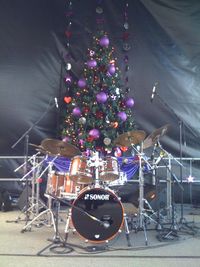 Coogee Carols
In 2006 I started playing drums for the Coogee Carols, which means I'll be enjoying playing my tenth show this year, and I hope you can come and celebrate with me. It's always a lot of fun, and there's always a familiar cast of stars to sing along with. The band is one of my favourites, led by Murray Jackson. Join us for free on Sunday 20 Nov from 6:30 PM. For more info, click here...



Please enjoy a safe and happy holiday period with your family and friends, and I look forward to seeing you again in the New Year. If you'd like to receive these messages as well as special offers for mailing list members only delivered directly to your email inbox, please join my mailing list by visiting:

http://davegoodman.com.au/signup

You'll also receive a free download copy of my new track 'Entelechies'.

Best regards,

DG