Dear friends,
May brought with it the opportunity to once again ask the eternal question: "where does the apostrophe go?" Ella and I had a nice time celebrating a happy day for Ella's mummy, and I celebrating a happy day for my own mother, so I like to use the plural possessive to celebrate mothers everywhere in wishing them a happy Mothers' Day. I hope you and all the mums around you had a nice day too.
What's the latest?
New Track: Maitreya - Dave Goodman Solo
I have released a new track called 
Maitreya
, which is for sale exclusively from my website.
Maitreya
 is a piece I wrote to perform at a Sydney Drummers Initiative drum clinic I did some years back (although it had a different title at that time), and I've also performed it at a handful of other clinics and events since. It features the great Matt McMahon playing a Moog solo. Matt is incredible on this one in that, after he got a feel for what the piece was all about, I captured this solo in what was, effectively, the first take.
Maitreya
 is the first in a series of pieces that I'm composing for performance and recording with my computer under the guise of Dave Goodman Solo, or simply just Dave Goodman. My previously released track 
Entelechies
 is also a part of this series - composed later, but recorded earlier. This series is made up of stuff that I perhaps wouldn't play in my quartet, and that I don't place any artistic filters or limits on: total freedom of individual self-expression. The pieces are also typically for performance in drum clinics. When I wrote 
Maitreya
, I had just finished writing my doctoral thesis and I was still under the spell of Tony Williams. There's a track called 'Eris' from his 1979 album 
The Joy of Flying
 on which he played in duet with Jan Hammer, and so this is my little homage to Tony & Jan. 
Get Maitreya here
. 
View footage from the recording session
Trioflight wins the 2015 Cranbrook Recording Studio Competition
One trio I really enjoy playing in is Trioflight with pianist Nick Southcott and bassist Max Alduca. It is a collaborative trio and each of us contributes our own music to be played. We enjoyed playing alongside a collective of poets and other musical artists for new, regular event New Sounds New Words in Glebe in May.
Trioflight was announced as the winner of the 2015 Cranbrook Recording Studio Competition this month. We'll be taking advantage of nine days of recording time at the Cranbrook studio, mixing and mastering at Studios 301, and the printing of 400 CDs with artwork designed by the Cranbrook School Marketing and Communications Department. We'll also be presenting a masterclass for Cranbrook School music students, and launching the album at a Cranbrook event later in the year. I'll let you know about that closer to the date.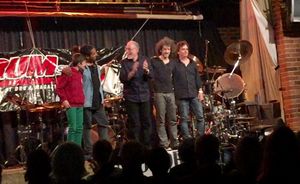 DRUMscene
Will Harpur (pictured, left), one of my current students, opened the
DRUMscene Live Australian Tour 2015
in Sydney with an open drum solo. He was followed by some of the biggest drumming names in the world today: Jojo Mayer, Todd Sucherman, Jason Heerah and Dom Famularo. Will won Australia's Best Junior Drummer at The Ultimate Drummers' Weekend in Melbourne in 2013, and I recently interviewed him about his drumming in the lead up to the event. 
Here's what he had to say
 along with some commentary from Dom Famularo, and 
DRUMscene
managing director and founder Frank Corniola. I also feel privileged and honoured beyond words that Frank included my name amongst a list of many of my peers, mentors and heroes as being one of Australia's "brilliant and unique drummers" who has "contributed in their own way to the development of Australian drumming, our sound and our identity".  This appears in the magazine's current 20th anniversary edition in which Frank also recalls a great many interesting anecdotes about his unique experiences over the past 20 years of running the magazine. Find your copy at the 
DRUMscene website
.
Other gigs
Trumpeter Warwick Alder's band The Jazzgnostics played at The Grand Hotel in Newcastle again in May. I love the way this band is evolving, and look forward to playing some more dates later in the year. To me, as well as writing some interesting new pieces, playing great trumpet and being a fount of great stories and jokes, Warwick Alder plays the best ballad in the world.
I played a gig with legendary trombonist Dave Panichi (who filled in for saxophonist Aaron Michael at the last minute) at Lazybones Lounge in Marrickville with Matt McMahon on keyboards and Karl Dunnicliff on bass. Last year, saxophonist Aaron released a live album that I played on. I was filling in for Paul Derricott that night for the first time, and it turned out to be a great gig that Aaron decided to release the recording of.
Get Aaron Michael Band Live on iTunes
. 
As part of guitarist/composer Nic Vardanega's Featured Artist residency for Jazzgroove over their April/May program, I played a very nice gig with Nic in trio format this month with David Groves on bass. Nic recently launched his beautiful new album 
Inverno
, which features excellent drumming from James "Pug" Waples.
Get Inverno on iTunes
.
What's coming up?
Dave Goodman Quartet launches at Venue 505 in Sydney
I'm excited to announce and invite you to the official launch of my new band – the Dave Goodman Quartet – at Venue 505 in Sydney from 8:00 PM on Friday 19th June. I'm very lucky to have Peter Koopman on guitar, Matt McMahon on piano, Cameron Undy on bass, and myself on drums to play through two sets of my original compositions, many of which are new. It's been a long time in the making and the start of a whole phase in my career as a bandleader. Please feel free to share this link and/or to forward this email to any of your friends who would be interested in attending. I really hope you can join us on what will be a great night! 
Details and tickets available here
. 
Dave Goodman Drum Clinic in Sydney
I'll be presenting a two-hour drum clinic in Sydney from 1:00 PM on Saturday 20th June at Venue 505 in Sydney. As well as being primarily educational in nature, I hope for the event to be a big drum hang, and door prizes will be courtesy of Sonor Drums & Bosphorus Cymbals. Non-drummers interested in gaining some insight into drumming are also welcome. 
Details and tickets available here
.
Steve Barry Trio plays Wellington Jazz Festival (NZ)
Max Alduca and I will join award-winning pianist Steve Barry to form his trio for a set of music at New Zealand's Wellington Jazz Festival on Friday 5th June. This will actually be my first-ever trip to New Zealand, so I'm super excited about this - not to mention that it's an exciting and rewarding challenge playing Steve's music with him.
Details and tickets available here
.
Francesca Prihasti Quartet
Pianist/composer Francesca Prihasti continues her campaign for the launch of her new album 
Night Trip
 this time for NIMA in Newcastle, NSW on Tuesday 23rd June with Nic Vardanega on guitar and David Groves on bass. The album was recorded in New York with Ulyses Owens Jr. on drums and Marco Panascia on bass. Francesca writes some of my favourite music to play, so this will be a great night.
Details and tickets available here
. You can also
get Night Trip on iTunes
.
That's all from me for now. Enjoy your June!
Best regards, 
DG
---
If you'd like to receive these messages and special offers delivered directly to your email inbox, please join my mailing list by visiting http://davegoodman.com.au/signup - you'll also receive a free download copy of my new track 'Entelechies'.