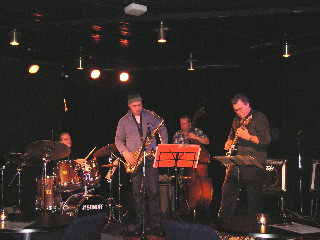 Steve McKenna Quartet, Fri 2 June 2006, The Sound Lounge in Seymour Theatre Centre, Sydney for SIMA.
L-R: Dave Goodman (drums), Dale Barlow (saxophone), Brendan Clarke (bass), Steve McKenna (guitar). Original higher resolution copy of this photo lost in a corrupted photo library.
Photo by Liz McKenna
It's with great sadness that I write this elegy following receipt of the news of the death of one of Australia's great jazz guitarists, Steve McKenna. Steve died in early-February 2017 from complications due to alcoholism. There are many people who knew Steve much better than I, and for longer. This is, therefore, a tribute to Steve based on my experiences with him in an effort to preserve of the quality and extent of my memory of the positive influence he had on me.
Background & First Impressions
I first became aware of Steve after reading a brief interview by Dale Cleary with Andrew Gander - one of Australia's foremost drummers and one of my heroes - in a 1993 edition of
Skin Full
 magazine. Although I was already familiar with, and immensely fond of, Gander's drumming from his prior work with 'Count' Paul Grabowsky and the Groovematics on Channel Seven's nightly TV variety show
Tonight Live with Steve Vizard
 out of Melbourne in 1990 and 1991, I didn't know Gander's name. It wasn't until I met and became friends with brilliant drummer, percussionist and composer Jared Underwood at a NSW Performing Arts Unity State Music Camp in Narrabeen 1993. Jared and I got talking about drummers and I mentioned this amazing drummer from the Vizard show with yellow Sonor drums, and Jared told me that his name was Andrew Gander, that he knew Gnader personally - Jared was then a student of close Gander associate Daryl Pratt at Sydney Conservatorium High School - and that Gander was on the cover of the current edition of 
Skin Full
.
After the camp, my parents took me to Billy Hyde Drumcraft in Surry Hills before returning home to Tamworth and we picked up a copy of 
Skin Full
. In the interview, Gander mentioned that there were some new CDs coming out at that time by Carl Orr, Mark Isaacs and Steve McKenna. I couldn't find them immediately and so I vowed to find copies of these as soon as I could.
ABC Studio 227
Fast forward to early 1994 when I was 16 and just starting Year 12. I'd booked Gander for a drum lesson through Greg Johns at Drumcraft, which was to take place around Easter 1994. I caught a train to Sydney from Tamworth by myself on the day before the lesson and phoned Greg to let him know that I'd arrived in Sydney. Greg told me that, unfortunately, Gander had to cancel as a recording session had come up. Crestfallen, I asked Greg if he knew where it was and if maybe I could go and watch as I was in Sydney already anyway. Greg told me that he didn't actually know, but guessed that it might've been the ABC radio studio in Ultimo.
The next morning I opened the Yellow Pages and looked up the ABC's address. I caught a train to Central from my sister's apartment in Artarmon and caught a cab to the ABC in Ultimo. If only I'd have had enough local wits about me at the time to know that the ABC is right around the corner from Central, and that it could've saved a lot of time if I'd simply have walked as the cab driver took me for quite the scenic tour through Pyrmont and Ultimo before finally arriving at the ABC.

I got out of the cab, and walked through the revolving doors into the large entrance foyer of the impressive ABC Ultimo facility. Whilst there was a general hubbub of activity going on in the building, the foyer was relatively quiet. As I approached the round security desk in the middle, the older guard said, gruffly, "can I help you?" In my nervous, breaking teenage voice, I sheepishly asked if Andrew Gander was in the building today. "Who's that?" he snapped. I said, "he's a drummer, and he might be recording here today."

The guard said, "hang on a minute," and he left the security desk completely unattended as he went over to the lifts on the far wall and disappeared, leaving me, and the ABC security console, alone in the foyer. You have to remember that this was pre-September-11, when the world - especially security - was much more relaxed than it is today, and I don't see this kind of relaxed approach to security ever happening again in any of today's media outlets.

A few minutes went by, and, sure enough, the guard returned in the lift, with a perplexed looking man I recognised to be Gander following. Gander walked over to me and shook my hand saying, "hi, I'm Andrew." I very nervously introduced and explained myself. He seemed ok with this and invited me upstairs to the studio. Andy took me in to ABC Studio 227 and introduced me to the band and engineer he was recording with on that day. It was the last day of three for the recording of tenor saxophonist Tim Hopkins' upcoming release Pandora's Box. I met Tim, and then I met pianist Mark Isaacs, and bassist Cameron Undy before meeting engineer Neale Sandbach. I didn't really have a clear sense of the kind of royal Australian jazz company I'd just stepped into other than that I recognised Mark's name from the Skin Full interview. Plus, I figured that anyone recording with Andrew Gander at the ABC must be very good.

Andy took me into the drum booth where his gorgeous Yamaha 9000 Recording Custom Cherrywood drums featuring smaller 8" and 10" toms and an 18" bass drum were setup and flanked by his old K Zildjian cymbals. These were the drums pictured in Skin Full and seeing them was as venerable an experience for me as though approaching a shrine to the benevolence of the spirit of all creation. Then I returned to the control room as the band started to record a few takes of the album's title track; an uptempo, high-energy piece with some sections adding up to 15 beats, and going for a very long time, including a drum solo over the 15 beats toward the end. I was staring through the double glass in absolute awe of what I was witnessing, and it had a profound effect on me. I will always remember with crystal-clear clarity how inspired I was by watching that recording session that day.

Sea View
Tim Hopkins' album wasn't due out until Christmas of 1994. I wanted to be able to keep the spirit of what I'd heard that day alive, and so, after leaving the ABC on a high - as though in a dream - I walked to Pitt St Mall, and went downstairs into HMV Music to flick through the jazz album section and see what I could find. Mark Isaacs' album wasn't there, but I found Carl Orr's album Mean It, and Steve McKenna's album Sea View and bought them straight away. It turns out they were both recorded in the same iconic studio that I'd just met Gander in.

I stayed with some friends in Bellevue Hill that night, and so, when I got to their apartment, I put Sea View in the CD player and cranked it. The opening track 'Mike's Nocturne' was a medium-up tempo tune with a feel that was an elegant hybrid of Latin and swing, and Gander's drums sounded exactly as I remembered hearing them in person at the ABC earlier that day. I was happy to have found a thread of inspiration spanning the duration of the album that was going to keep the spirit of the day alive for me at least until, and ultimately beyond, the time when Pandora's Box would be released. 'Mike's Nocturne' still has a mystical quality to me in the sense of forward motion it exudes and it continues to draw me in today. Not only that, but I'd found a new sound and sensibility to get absorbed in.

Steve's nylon-string jazz guitar playing was exquisite to say the least. He had impeccable timing in the joyous bounce of his swinging quaver lines. He was melodically inventive and strong, playing lines that glided effortlessly over several bars. I hadn't heard his influences previously, but as I got to know about more and more guitarists in jazz, I began hearing a very clear connection in Steve's electric guitar playing with Mike Stern and John Abercrombie. I have to say, though, that, to this day, specifically Steve's nylon-string jazz guitar playing remains as one of my all-time favourites.

Steve's compositions featured long forms that I imagine appropriately fitting the headline bill of any jazz festival anywhere in the world. The rapport between McKenna, Gander, and bassist Adam Armstrong was also a force to be reckoned with. Sydney jazz folklore has it that, in those days, the rhythm section comprising Adam and Andy was affectionately dubbed 'The A-Team', and for good reason. They were everywhere. On ABC Classic FM's Jazz-rock later in 1994, Jim McLeod played a brand new track called 'Evening's Greeting' by Daryl Pratt's band Sonic Fiction. That was an amazing band featuring Steve, Adam and Andy. I recorded the program that night and listened over and over to 'Evening's Greeting', imbibing and further cementing the unmistakable sound of these virtuosi indelibly and archetypally in my musical mind - they represented the apex.

Steve in Germany
I moved permanently to Sydney in January 1995, and I was excited by the prospect of hearing the Steve McKenna Trio tear it up live on stage, but it didn't take long to find out that Steve had relocated to Germany in 1994. One of the first things I did was to pick up a copy of Steve's earlier album Wall To Wall Cement with Michael Bartolomei on keyboards, Alex Hewetson on bass and Gordon Rytmeister on drums. It has a markedly different sound to Sea View in that it had more of an electric fusion approach, and was compelling in its own way.

I'm not sure exactly when Steve returned to Sydney, but I remember that the first chance I had to see him play live was around 2001 when he played a couple of gigs for the Jazzgroove Association at the Lansdowne Hotel in Sydney's Chippendale. Phil Stack was bass both weeks, and James Muller also played guitar both weeks, but Andrew Gander played drums the first week, and Gordon Rytmeister played drums in the second week. So I finally got a chance to hear Gander play with McKenna - and, other than saying that it was absolutely electrifying, I don't really have the words to adequately describe the chemistry and deep rapport I observed going on that night.

First Meeting
Finally, I got a chance to play with Steve. I'm not sure exactly which year it was, but we played a New Years Eve gig with singer Gregg Arthur in the Sheraton on the Park in the city. We wore dinner suits with wing-tipped collars and bowties, and played mostly repertoire that Frank Sinatra and Tony Bennett made famous. After this gig, if my chronology is correct, Steve and I went to a pub with other friends in Leichhardt after this gig. I remember David Theak being there amongst others. I drove to the pub with Steve as a passenger in my car, and it was really the first time I had a chance to chat with him. I remember the conversation being mostly about the time he spent in Los Angeles at Guitar Institute of Technology (GIT) where he won the Player of the Year Award in 1981. Admirably, he opened up a modest side by talking about how he felt that, despite how well he was doing at GIT, it seemed his playing was eclipsed by ex-Canberra guitarist Frank Gambale who moved to LA shortly after Steve did.

Once we got to the pub, I remember the conversation had started to get a little more aggressive with Steve when he verbally chastised me for not doing what he believed to be adequate enough practise at the time. The notion of not practising for several hours daily as a musician seemed to be something he genuinely couldn't understand. Feeling intimidated by Steve's position, I walked away that night with a renewed resolve to be more properly dedicated to my art through more regular practise.

New Times
In late 2003 I got a phonecall from Andrew Gander - who'd moved to Melbourne in 2002 - telling me he was in town and that was going to record a new album with Steve at the ABC. Andy's drums were permanently set up at Star City Casino that week because the primary reason for him to be in Sydney was to play there with Rhonda Burchmore, and so he wanted to borrow my Sonor Designer drums for the session with Steve. Of course, I said that he could use them. Andy got a ride with Steve and they dropped in late one night after the Burchmore gig to pick up my drums and take them to the studio. I asked if it'd be ok to tag along the next day and to watch the session, and they said it'd be ok. So, I went back into ABC Studio 227 and watched them record a couple of tracks with Bernie McGann on alto, and Sean Wayland on organ. The album came out in around 2005. I was proud that Gander played my drums on that album, and watching the session was another memorably formative moment for me.

Playing With Steve
In 2006, I was living alone in an apartment in Redfern and I'd bought a set of Sonor Signature Ebony drums from a guy in Japan. This was a set that I'd been drooling over the possibility of owning for many, many years, and it took months to go through customs. Shortly after I ordered the drums, I got a phone call from Steve offering me a gig with his quartet on Friday 2nd June at The Sound Lounge for SIMA with Dale Barlow on tenor and Brendan Clarke on bass. I was buried deeply into my PhD work and hadn't been playing many gigs around that time, and so the call brought with it a renewed sense of motivation for playing. We rehearsed at Steve's place in Petersham where I met his wife Liz, and we went through the repertoire, many tunes from which I'd already heard a million times like 'Mike's Nocturne', 'Blues for Johns', 'New Times', 'Sea View', 'Reign', and 'Spring'. It was a beautiful experience for me to actually have the chance to play these tunes with Steve, reading his original hand-written charts for them. I remember feeling distinctly out of my depth knowing how great Gander sounded on the originals, and so, on one hand I committed myself to making more transcriptions of his amazing drumming from this album, and on the other hand, I had to forget that I'd ever heard those and to try and play in my own way as though they were brand new pieces that hadn't been played before.

We had a great time playing to a small, but dedicated crowd that night. It was the first gig on which I was able to play my new Sonor drums as they'd arrived earlier that week and I was happy to be using them with Steve. One of the funny things I remember is that a lot of the held chords at the end of the tunes went on for a long time with high-energy extended improvisations from the band. The audience started applauding enthusiastically as we hit the chord, but when the thing finally ended, it seemed the audience had long since stopped and there were very strangely awkward silences. We were cracking up on stage about it because it was an unusually hilarious experience. You'll here this on the audio track attached at the foot of this post. Steve told me that he really liked the recording I made of the gig and that he wanted to have it mastered and released as a live album. Unfortunately that album never surfaced. The audience response made me think about Steve's music and its place in the world. As I said earlier when I was talking about Sea View, the long form of Steve's music and energy would fit the bill more than adequately at any of the world's great jazz festivals, but perhaps this tiny club crowd were somewhat overwhelmed by Steve's energy on this night.

We had such a great time as a band that night that Dale asked us to form the Dale Barlow Quartet for a gig in the same venue the following week. We were all available, and so we did it, playing mostly on Dale's tunes. That night was a lot of fun too, and Steve was in good spirits in general. We did one more gig at the Sound Lounge later that year in September, and Bernie McGann played half the gig. Perhaps Steve's energy was tipping toward a more aggressive side on this gig, and it lacked a bit of the joyousness from our previous outings that year. Some time after this I bumped into Steve and Liz with their children Erin and Jacob on Norton St in Leichhardt. Steve seemed to be in genuinely good spirits, and we had a brief but nice chat.

Lazybones
I only played with Steve one more time after the 2006 run at the Sound Lounge. He called me to play in a trio with bassist Steve Hunter at Lazybones in Marrickville in February 2015. He was notably irritable that night, and, again, there was something about the energy he put out that had an aggressive character to it, and I admit to having had a hard time playing and being there that night. It was one of the loudest jazz gigs I remember playing, and I'm not very good at having to play acoustic drums hard enough in jazz to try and match the volume of a guitar amplifier that takes the guitar way above the volume level that, say, would blend with an acoustic grand piano. If the sound is set up ideally so that the whole band can play acoustically, and the engineer presents that blend of sound to the audience, then that's ok, but, it was just too loud on stage for me that night and I struggled. The overdriven aggression in Steve's sound on this gig stood in stark contrast to the gorgeous nylon-string jazz guitar sound I'd fallen in love with earlier on 'Mike's Nocturne'. Steve was argumentative and contrarian in conversation to the extent that, unfortunately, it wasn't a pleasant environment to be in. It was after this that I came to realise that, sadly, Steve had been struggling internally for a long time. Regrettably, this was the last time I saw Steve.

Contemporary Music Advocate
Steve was a true ambassador for, and devotee to what could be called contemporary jazz music, and I really admired his dedication to the spirit of that realm. As I said a couple of times already here, his music would've worked well on the big stage at any major jazz festival anywhere in the world.

There are a couple of bands I've heard about over the years that I'd love to hear recordings of if you or anyone you know has a copy I can hear. If you do, please let me know by commenting below or send me an email. Warwick Alder told me about some footage of the Steve McKenna Quartet that was made at the Strawberry Hills Hotel in the early 1990s with Adam Armstrong and Andrew Gander. Warwick's VHS tape may not have survived the test of time though. Also, Steve played for a while at that time with the Mike Nock Electric Band and I wonder if there are any existing recordings of that band.

I've attached to this post a version of the 2006 Sound Lounge quartet playing on 'Mike's Nocturne', which features Steve on guitar, Dale Barlow on tenor, Brendan Clarke on double bass and myself on drums so that you can hear some of the fun we had that night.

Rest In Peace, Steve McKenna.

May the memory of Steve and the sweetness of his music remain alive in our hearts and in our ears.

My sincere condolences to Liz, Erin and Jacob.