I hope you, your friends and your families are well, and that life is good all around. Our gorgeous little Ella turned two years old in February. Patrice and I are still scratching our heads wondering how those two years slipped by so quickly. One thing's for sure, Ella certainly brings great perspective, clarity and joy to the purpose behind everything we do now, and we feel very privileged to be in the front seat, watching her grow into being more and more herself by the day, sometimes by the hour.
Review
Jazz Research Symposium
As I said last month, I sat on a panel of PhDs for a symposium on the importance of jazz research at Sydney Conservatorium of Music last December. I've since posted a blog containing the text from my five minute talk entitled
Why Jazz Research is Important
 and I'd like to invite you to have a read as I feel this point is a very important one to be in dialogue about with as many people as possible. Feel free to post your comments at the bottom of the article to get the dialogue rolling. You don't need to sign up to do so, just post your thoughts as you see fit.
Entelechies
You may have received a copy of my new 'single' called 
Entelechies
, which I had a lot of fun recording in Canberra in early February with my old pals Mark Sutton and Greg Stott at
Hi Hat Music Studios
. In case you haven't received your free copy, you can receive your free copy when you join my mailing list. I worked with Jasmine Crittenden on an article called 
Download Dave's compelling new Zappa-Metheny-inspired track for free
, which explains a bit of the background of the piece. I hope you have as much fun listening to it as I had creating it.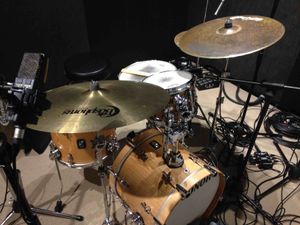 Red Rock Deli Lime & Black Pepper ad campaign
You may have seen this ad floating around Facebook since 22 Feb as it's already had over 70,000 hits. If you can hear the brushes on there, that's me! It was so much fun because the producer asked me to do my best impersonation of Jack DeJohnette playing freely all around the drumset with brushes. Cool! It was a tiny little booth, so I took this tiny little drumset.
If you haven't seen the ad yet, it's now posted on my page of videos alongside some of the other fun
television commercials
 I've done that you might enjoy watching.
Drummer Talk 247 podcast
My friend on the Gold Coast, and great drummer
Cvitan Barac
very generously told these American podcasters about my PhD thesis, and they decided to have a little rave about it in a recent podcast. When you land on the page, scroll down a bit (past Stevie Wonder) until you find the little 'play' button, and if you want to get straight to it, the segment opens at 13:08.
Check it out
, they're pretty funny guys. Thanks Cvitan!
Gigs
I enjoyed playing a couple of very special gigs this month. In particular, one was with guitarist Steve McKenna, whose first gig it was after recovering for some 18 months after serious hand surgery, and electric bass virtuoso Steve Hunter. We played at Lazybones in Marrickville, and it was like hanging on to the caboose for dear life - so much energy and power. You'd never know McKenna had taken so much time off - he sounded great as always. Listening to his albums with the great Andrew Gander and Gordon Rytmeister on drums in the early 1990s was such a deeply formative part of my musical development, so it was a privilege to play with Steve.
Another enjoyable gig was at The Gods Café in Canberra with Mark Ginsburg's South African Project. This is a fun band that seems to have the magical power of building a solid following wherever we go. Mark's a pretty special guy though, so I can see why people like to come out and hear his band. Eamon Dilworth did a stunning job filling in for Simon Ferenci on trumpet at the last minute. What a great musician!
What's coming up?
Dave Goodman Quartet
Perhaps the news I'm most excited to tell you about this month is that my new band, the Dave Goodman Quartet plays its first ever gig for the
Wollongong Conservatorium of Music on Friday 13th March from 7:00 PM
. It's taken a long time to get this quartet together, and we'll be playing music that I've been developing since late 1996. Half of it was written in the most recent 12 months.
The band is Peter Koopman on guitar, Matt McMahon on piano, and Cameron Undy on double bass. These guys are serious virtuosi, and they won't disappoint you. I'm very happy to have them on board, and we'd love to play for you if you can make it to Wollongong that night.
I've also been working with Eric Dunan on setting up some a drum clinic, a band workshop and some drum lessons while I'm down there. If you're interested, details will be posted at
The Drummers' Hub
once everything's locked down.
Ten Part Invention
I feel honoured that legendary Australian jazz ensemble Ten Part Invention - "The Rolls Royce of Australian Jazz" - invited me to be the full-time drummer, replacing the band's founder, the great John Pochée in 2011. Patrice and I were enjoying our honeymoon in Los Angeles. We were driving through the Hollywood Hills back to our apartment in Santa Monica on a high after seeing Donny McCaslin, Uri Caine, Fima Efron and Mark Guiliana play a gig when the phone rang. It was Sandy Evans calling to ask if I'd like to join the band - as if I wasn't already on a high at that exact time. I've been depping for John in the band since 1998 and toured overseas with them for three weeks, so, naturally, my answer was yes.
TPI hasn't played in just over two years so that we could make some decisions about the band's future, and I'm happy to say that we're "making a come back" (as Alan Turnbull would've said) at Peter Rechniewski's great club
Foundry 616 in Ultimo on Saturday 14th March from 8:30 PM
. We'd love to play for you that night. Joining us on bass this time will be the ever-dependable Karl Dunnicliff.
Tim Draxl in Freeway - The Chet Baker Journey
You might recognise Tim Draxl as the face of Vodafone's latest series of ads. He's a brilliant young actor who can hold his own in the company of veteran heavy-weights such as Olivia Newton-John. Tim does a brilliant job portraying the tortured genius of the late great Chet Baker in a story written by Bryce Hallett. With Ray Alldrige on piano and directing the music, alongside Dave Ellis on bass, and Shannon Marshall on trumpet, this is a series not to miss at beautiful
Hayes Theatre in Potts Point from Tue 17th to Sunday 22nd March
. You can book directly through the theatre.
The Music Trust - album reviews
Finally, I'm very happy to announce that I was invited by Dr Dick Letts, director of The Music Trust, to be an album reviewer for their website starting this month. My first review is of pianist Marc Hannaford's new release
Can You See with Two Sets of Eyes?
You can read it on 
my profile page at The Music Trust
. In future months I've be publishing two reviews a month.
Well, that's about all for now. Thanks for reading and, as always, I'd love to hear from you, to learn more about what you're up to, and to answer any questions you may have about anything in this message, so please feel free to
write to me here
and I'll get back to you as soon as I can.
Have a great month!
Best regards,
DG 
---
If you'd like to receive these messages and special offers delivered directly to your email inbox, please join Dave's mailing list by visiting http://davegoodman.com.au/signup - you'll also receive a free download copy of Dave's track 'Entelechies'.