Dear friends, 
This month I have some exciting news to tell you about the Dave Goodman Quartet, including discount ticket offers, but first I want to congratulate Australian jazz legends Mike Nock and John Pochée for each reaching their 75th birthday last month. Mike and John have been a huge mentors to me over the past 20 years, and I wish them happiness and health for the next 75 years.
 
I first heard Mike play on a gig in Tim Hopkins' band with Cameron Undy and Andrew Gander at the Woollahra Hotel in mid-1994 when I was in Year 12 at school. My parents had brought me to Sydney from Tamworth for a weekend bonanza of Gander workshops and gigs. It was an unbelievable weekend for me, and I decided that night that Mike was someone I wanted to play with at some point in my life. Mike was then on my audition panel for Sydney Conservatorium later that year (how nervous was I?!), and then I was enrolled in his jazz improvisation class when I started my first year there in 1995. I thought that maybe I'd get to play a gig with Mike 10 years or more later, but, to my surprise, later that year (I was 18), Mike told me after one class that he had a gig for me if I was interested, and so I asked him what it was, thinking it would be some low-key setting. When he told me it was to be with Hopkins and Undy in his quartet at the Strawberry Hills Hotel, I nearly fell over. Of course, I said yes. That gig ended up not happening, but I did my first gig in Mike's band at the Harbourside Brasserie the following February with Roger Manins on saxophone, and Undy on bass. That night changed my life. I was lucky enough to play on and off in Mike's band until late 1998, winding up in a couple of documentaries with him, and on his album Ozboppin'. I've probably learned more about playing music on the drums from my experiences with Mike than from anyone else - anyone who's played with Tony Williams, Elvin Jones, Jack DeJohnette, Steve Gadd, Al Foster, and Terry Bozzio is going to have good advice for a drummer. He has that rare quality that we all strive for, and that is that he is recognisable worldwide as himself at the piano within two notes of playing. When I think about what kind of achievement that is for anyone, I start to feel dizzy. Happy birthday, Mike!
 
John Pochée is someone who's contribution to the international jazz stage is unique and significant. I admit that when I used to go out to hear John play in the mid-1990s I had to close my eyes because I couldn't understand what I was seeing - his unorthodox self-determined-left-handed-person-playing-a-right-handed-drumset technique was totally baffling to look at. But when I closed my eyes and just listened, what I heard was as rich as I imagine it would've been to have heard any of the legendary drummers from earlier periods - such as Elvin Jones or Frank Butler - yet he was as uniquely identifiable at the drums amongst them, like Nock was at the piano. I was lucky, and privileged to fill in for John in his band Ten Part Invention during a three-week, 22-concert tour of Asia shortly after leaving Nock's band in 1998. This gave me the invaluable opportunity to play music, and to travel with people such as Bernie McGann and Roger Frampton - an opportunity I'll always remember, and for which I'll be forever grateful. Every record I've ever heard John play on sounds like an all-time classic. He records so beautifully. He's not playing anymore, and I'd give anything to watch that technique again now, and to enjoy its unique brilliance. Happy birthday to John!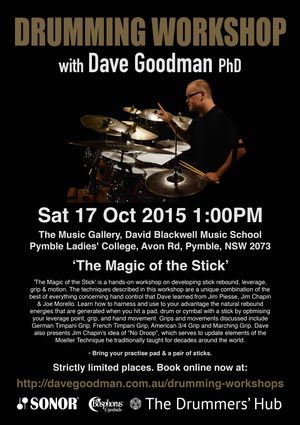 Monthly Hands-on Drumming Workshops in Sydney
On Saturday 17 Oct at 1:00 PM in Sydney I'll be presenting the first of my monthly hands-on drumming workshops. I will cover a different topic each month. The first workshop is called The Magic of the Stick, which is a discussion and demonstration of the rebound, leverage, grip and motion I learned from my brilliant teachers Jim Piesse, Joe Morello, and Jim Chapin. If you're able to take part, you'll experience these techniques directly for yourself in an encouraging group-learning environment. Places are strictly limited, and so it would be wise to book in advance. You can find more information, book tickets or discount subscriptions here: http://davegoodman.com.au/drumming-workshops​




Dave Goodman Quartet
Foundry 616, Wed 7 Oct, 8:30 PM
As we prepare for our performance at this year's Wangaratta Festival of Jazz and Blues, Matt McMahon, Cameron Undy, Peter Koopman & I will be at Foundry 616 in Sydney's Ultimo on Wed 7 Oct from 8:30 PM playing my original music. If you've been to one of our gigs already, I'd love to invite you back, as well as to invite you to bring your friends. Each time we play I can't believe how much better these guys make my music sound - I really am lucky to have such a combination of amazing musicians to play my music.
As an exclusive offer to readers, you will be able to receive a $5 discount off advance tickets when entering the codeword OCTOBERFEST at the check out here: https://www.stickytickets.com.au/30258.
Wangaratta Festival of Jazz & Blues, St Pat's Hall (Kawai Stage), Sun 1 Nov 2015, 4:00 PM
As I said, I'm extremely proud that the quartet will be making an appearance at this year's Wangaratta Festival of Jazz and Blues, Australia's premiere jazz festival. If you'd like to catch us - and other great performers - at this year's festival, as another exclusive offer to you as a reader, quote the code 'Artist01' at the point of sale, to receive a significant discount: http://wangarattajazz.com/artists/dave-goodman-quartet/
The code will allow you to buy a Festival Pass (all venues, subject to capacity) for $145, or the Gold Pass (limited quantity, provides guaranteed access to all venues) for $290. That compares with the standard pre-September 30 prices of  $165 ($150 concession) for the Festival Pass and $325 ($295 concession) for the Gold Pass; or the October prices of $185 ($165 concession) for the Festival Pass, and $350 ($325 concession) for the Gold Pass. What a great promotion from the festival organisers - I hope to see you there!
If you haven't heard us before, we look and sound like this:
 

Other Gigs & Events

Also this month, I'm looking forward to playing a couple of gigs with some of my favourite bands to play in:
Have a great month, and I hope to see you out and about. I'd love to hear from you, so please feel free to leave a comment below, or send me an email. If you'd like to receive these messages as well as special offers for mailing list members only delivered directly to your email inbox, please join my mailing list by visiting http://davegoodman.com.au/signup - you'll also receive a free download copy of my new track 'Entelechies'.
Dave Goodman Music
Sydney, Australia
http://davegoodman.com.au