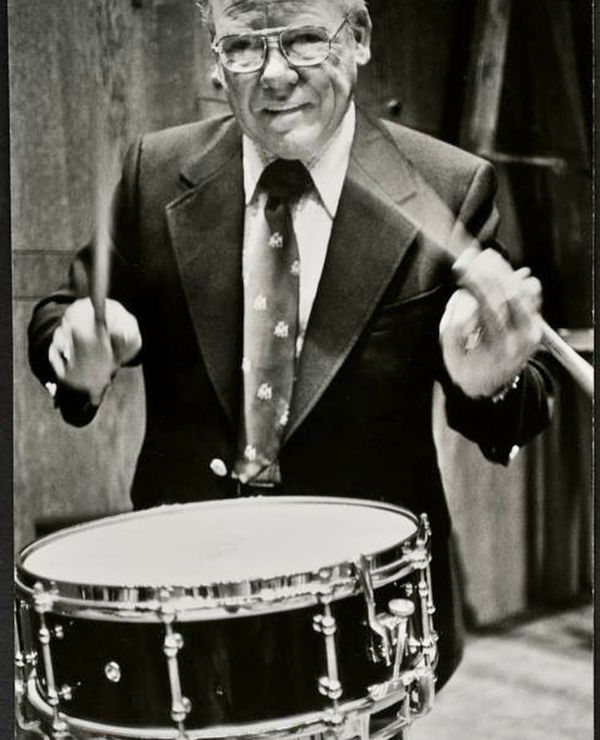 It's Friday April 22, 2022 here in Sydney, marking what would have been Elden C. "Buster" Bailey's 100th birthday, and I wish a very Happy Birthday in drum heaven to the great man.
For reasons I'll never understand, most people will not previously have heard of Buster Bailey before, and so, if this includes you, I'll provide a very brief biographical background here in stating that he had two of the most distinguished careers in music. One was as primary snare drummer in the New York Philharmonic for 42 years from 1949 to 1992. The other was on the faculty at The Juilliard School for 24 years from 1969 to 1993. Sadly, Mr Bailey died shortly before what would have been his 82nd birthday on April 13, 2004. More detailed information can be found at his entry into the Percussive Arts Society's Hall of Fame, which I believe to have occurred in 1997: https://www.pas.org/about/hall-of-fame/buster-bailey 
I haven't been the same since first hearing him, and I thought that - to honour his legacy on this important centenary - I'd take a little time to offer an account of how his music entered my life, and what it means to me. 
In early 2017, I started looking for an alternative way to play traditional grip on the drumset as I had some issues with my thumb that needed to be addressed in order not to be painful. Pretty quickly I discovered Scott Wilkinson's video - https://youtu.be/NMKHcxXUHJE - demonstrating Buster Bailey's drop, THROW, and follow technique. Whilst I view the video today as being excellent, being an ignorant jazz drummer in Sydney who hadn't previously been exposed to Mr Bailey nor his music at the time, I disregarded it, and I kept looking. But the name stuck in my head. Scott also wrote a great article going into a bit more detail about the technique, and about his history with Mr Bailey: https://medium.com/@Scott_Wilkinson/learning-to-drum-for-real-3bb9d36bc190
Fast forward to October 11, 2019, and I was in Canberra to present a drum clinic for Innovative Percussion at Canberra Drummer's Day the following day. I stayed the night of the 11th at event host Gary France's house. Gary and his wife Sandy put a lovely dinner on for me, and then after dinner, Gary and I went and talked about many aspects of drumming in his basement where all his drum and percussion books were stored on many long shelves. As I flicked through the titles on the shelves, I saw a book with a white spine only, and no printing on the spine. I pulled it out to see what it was. It was Wrist Twisters by Elden C. "Buster" Bailey. I blurted out to Gary, "oh, so this is Buster Bailey!" Gary said, "yeah man, that's one of the greatest snare drum books ever written. Your hands just feel great after you work out if it for a little while!" I vowed to order it after returning home - not really knowing what was in store following its arrival. 
Finally the book arrived in November 2019, and, to my surprise, it included a CD, which I wasn't aware of when I was at Gary's. The next morning, I was up early with headphones on as I'd decided to listen to the CD, which was said in the book to contain an eight-and-a-half minute solo improvisation on two drums that was recorded by a student attending a talk on snare drumming that Buster Bailey gave at the Osaka College of Music whilst the New York Philharmonic toured Japan in 1989. 
Passing through the threshold of those eight-and-a-half minutes of listening to Buster Bailey for the very first time was as life-changing an event for me as any you could imagine, and I'll never forget it. Afterward, I was still and silent for a little while - in absolute awe. I even said to myself, "that's the greatest snare drum playing I've ever heard!" I'd heard a lot of snare drumming previously, mostly by drumset players. No one else came even remotely close to what I'd just heard. It was a religious experience for me to say the least. 
I've listened to it hundreds and hundreds of times since. I've learned to play about the first minute or so of it so far too (although, of course, it doesn't sound anything like Buster Bailey when I play it!). It's helped me take better control of my own ability on a number of levels. 
Firstly, I had to confess that, up to that point, I didn't really know anything about rolling properly. 
Secondly, he educated me more on the quality and variety of sound achievable on a snare drum. I'm still intrigued that the drum he played most of that solo on is a beautiful, wide open, ringy, and yet very crisp, punctual, and precise drum - not at all like the very muffled drums I hear being played in most orchestral music. To my sensibility, the muffled sound completely lacks the tone and nuance of expression that Mr Bailey achieves on his drum here. I'd previously thought that all orchestral and concert snare drumming was supposed to be played using the very dry, muffled sound that's usually heard with gut wires, etc. I'm sure Mr Bailey frequently muffled his drum in orchestral settings, too - in fact, it's easily heard on a lot of recordings that he did in fact muffle it. But I still can't get past the openness of the sound here. He didn't choose to muffle it here, and it's just gorgeous! It's as though his movements with the sticks in hand - as well as the tuning, dimensions and overall setup of the snare drum - are carefully and yet spontaneously and intuitively calibrated in the moment of every note in such a way that he moves at one with the stick, the drum, and his musical mind just as much as each moves as one with the other. I perceive not one iota of friction, space nor distance between what I imagine to be the intention of his original musical conception and the execution of that idea on the instrument in the room for that audience at that time. The audience hears it realised in real time right before their very ears in an immediate and very powerful connection to the source of music that's also extremely subtle. 
Thirdly, and perhaps most importantly, being an improvisation, this recording showed an immense degree of creative prowess that was orders of magnitude beyond anything else I'd ever heard anyone play on just two drums. And it's not at all that it's merely a virtuosic display of "fast" technique nor and kind of flashy prowess on display for its own sake, which always seems "improper" whenever I hear anyone playing that way. It was elegantly, wonderfully, and abundantly MUSICAL with a very precise and immense degree of intensity that's achieved and maintained with coherence through great contrast and variation in dynamics, syncopation, timbre, and density amongst other qualities. The metric modulation was also an exhilarating surprise! A display of effortless musical mastery at its very finest. 
Since first hearing that piece, I started getting up at 4:00 AM every day to practice and catch up on everything it appears I've been missing out on in my own drumming, including starting to work through Wrist Twisters. You could say I've almost become obsessed with the man and his music. I've adopted and personalised his technical terminology completely in my own understanding and teaching, and doing so has been such a welcome and refreshing upgrade from what I was doing previously. 
I am intrigued by the drum shown in the photo shown here also. I've asked just about everyone about it, and no one seems to know. It's definitely not the Gladstone drum #00 that's in the Percussive Arts Society museum - https://youtu.be/JxII7kNWzeM - as that's a deeper drum. This one looks like it's only 5" deep. Also, this drum is missing the muffler / tone-control dial that Gladstone drums had. It's shallower, and doesn't appear to have the Gladstone two-way tuning mechanism either. 
I asked Mr Bailey's NYP colleague (and maestro in his own right) Morris "Arnie" Lang about it, and he said that a gentleman named Walt Goodman in LA may have made it for Mr Bailey as Goodman may apparently have made a "knock-off" of the Gladstone throw. The only person I could find who had anything to do with a Walt Goodman was Chad Wackerman whom Murray Spivack had to sent to Goodman for further study. As I already knew Chad, I wrote to ask him about it, but, whilst he confirmed that Goodman made drums with some students on occasion, he was unaware of any particular drum made for Buster Bailey. I've written to other key figures I imagine would know about the drum from whom, sadly, at the time of writing, I've not yet heard back. To me personally, it's the most mysterious drum in existence and I'd love to know its properties, history and current location. It's the drum featured in most footage and photos I've been able to find of Buster Bailey playing, and, even though he was probably just using a drum from the school in his Osaka solo recording, this is the drum I imagine him playing when I listen to it, as well as to every other recording I hear him on today.
One other thing that intrigues me is that the remainder of the talk must surely be preserved in recorded format somewhere - unless the student only caught the solo. I would give anything to hear what Buster Bailey had to say about snare drumming in Osaka that day - or on any other day for that matter! 
Also, I've learned that Mr Bailey enjoyed an enduring friendship with "the father of modern pipe band drumming" Alex Duthart. Apparently, Mr Duthart wrote a piece for Mr Bailey that was all but impossible to perform. The great Jim Kilpatrick - Mr Duthart's protégé - is said to have seen the composition. I'd love to know more about this piece - even to see, hear, and perhaps try playing it, as well as about their relationship as I can't help but think that Mr Bailey's style is highly informed by pipe band snare drumming.
All of this caused me to start an appreciation group on Facebook as - aside from what I've mentioned here - there seemed to be a dearth of information out there on this great man. I thought that over time I could meet a number of his students, friends and family - each to learn something new from the other. This is how I met most people whom I invited to be the original members of the group. Now the Facebook rules have changed, and the group is open to everyone, which is great. You can find it here: https://www.facebook.com/groups/eldencbusterbaileyappsoc/ 
It makes me really pleased that forming the group led to a beautiful friendship with fellow admin of the group in Toronto's great Stewart Hoffman, who studied with Buster Bailey at Juilliard. I'm also very pleased that Scott Wilkinson - my first point of contact - and Mr Bailey's wife Barbara are both now members as well as a great many other important figures in the drumming world such as Peter Erskine, David Garibaldi, Pete Magadini, et al. There are also a number of other great friendships that have sprung up along the way from everything this quest has led me toward, particularly and most notably for me with the great Don Hennig, Mark Reilly, Claus Hessler, Jim Clark, and Michael Askill. For this I'm especially grateful. Of course, everyone in the group is playing a very special role in celebrating the life, music, and work of a great man. 
I don't think anyone who was previously unaware of Buster Bailey should have to wait until their early 40's to hear him play for the first time like I did, and so that's why I'm sharing here Nielsen's beautiful Symphony No. 5 recorded by the New York Philharmonic under Bernstein in 1962 with Mr Bailey as featured soloist. His solo begins at 14:43, but I urge you to listen to the entire piece in order to hear it in context rather than skip straight to it: https://youtu.be/NUf67ycFhsU 
I've listened to many, many of his other recordings, which are all outstanding. I try to post links to many of these here from time to time without spamming. I've also created playlists on Spotify and YouTube that I invite you to explore. 
I'd love to hear the details of your own experiences with Buster Bailey in celebration of his 100th birthday - whether through your personal interactions with him, or through your experience with his recorded material. What does he mean to you? What have you learned from him? Feel free to leave a comment below. 
Let's proclaim today as Buster Bailey Day, and to share together in the joy with which he infused his life and music for all of us who remain to benefit from!