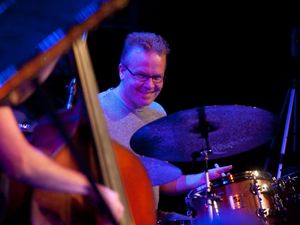 Article by Robert Kennard originally appearing in 
Northern District Times
, 17th Nov 2011 
WEST Ryde drumming maestro Dave Goodman (pictured) won a third prize of $2000 in the 2011 National Jazz Awards.
The award comes less than a month after the Northern District Times featured Goodman. He said he felt "extremely fortunate" to receive the award after playing Thelonious Monk's Little Rootie Tootie, Lover Man by Ramirez and his original composition, Enter The Tenth Wave.
Held alongside the Wangaratta Jazz Festival, the competition showcased the top 10 jazz drummers in the country. Tim Firth won first place and Ben Falle came second.
Past winners include ARIA award-winning artist Katie Noonan and Grammy award-nominated pianist Barney McAll.
Percussionists have featured every seven years at the awards, with Mr Goodman also winning a place in 1997 (2nd) and 2004 (3rd).
Goodman said the victory money would be used for his own musical pursuits.
"I'm going to put the money toward developing future musical tours and recordings with my own band playing original music," he said.
The awards are designed to contribute to the development and recognition of young musicians aged up to 35, with entries received across Australia, New Zealand and Japan.